What does Duress Mean?
Duress may have been mentioned in the past as a method by which someone could break a contract, however, what does duress mean?  Legally, it is a set of circumstances whereby the individual under duress involuntarily accepted the terms of another; that those circumstances permitted no other alternative and that those same circumstances were the result of the coercive acts of the opposite party.  That is a mouthful and may appear to be a bit confusing.
I have heard clients arguing duress as a defense when they had many alternatives available and although they perceived they were under a coercive pressure, it was more a perception than a reality.  Duress is a viable defense.  For example, the video below mentions signing a contract or there will be serious bodily harm.  That, it could be argued, is duress.  However, duress is not as cut and dry as it would first appear.  Issues as to whether the party arguing duress behaved in a voluntary or involuntary manner or whether there existed no other alternative.
Whether or not there is another alternative is a very intriguing proposition when addressing the question:  What does Duress mean?  Often, clients argue they signed under duress because the contract they signed or the agreement they made was the best alternative considering their situation.  It was not the optimal outcome and often far from it.  However, there is a perception of pressure which has placed them in this difficult position.  Unexplored alternatives is one of the very reasons it it important to discuss your options with a Lawyer prior?  Duress is a viable defense but should be carefully analyzed to see if it is a viable defense.
I hope this brief discussion has been helpful.  If you find yourself in a difficult situation and feel you have no other alternative, call a lawyer.  If you live in Stuart, Port St. Lucie or Jupiter, give my office a call.  It is important to make the call before you get into a situation whereby you have to assert duress as a legal defense.  The only way to find out is to make the call.
I appreciate the time you have taken to review my website.  Thank you and have a wonderful day.
The New Federal Courthouse in Fort Pierce, FL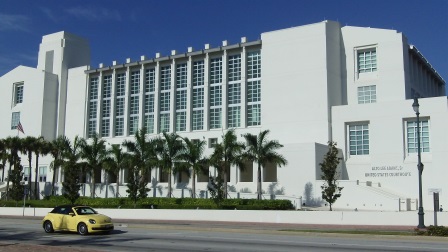 In March of 2012, the new Alto Lee Adams Sr. U.S. Federal Courthouse was dedicated.  Criminal and Civil cases are heard here as well as grand jury proceedings.  Bankruptcy proceedings as of the date of this post are still heard in West Palm Beach, FL. The courthouse has district and magistrate courtrooms and also houses the U.S. Marshals Service, U.S. Attorneys Office and the U.S. Probation and Pretrial Services System. This courthouse services the Fort Pierce Division of the U.S. Southern District of Florida which encompasses St. Lucie, Martin, Indian River, Okeechobee and Highlands counties. The Alto Lee Adams Sr. U.S. Federal Courthouse is located at 101 South U.S. Highway 1, Ft. Pierce, FL.  at the intersection of U.S. 1 and Orange Ave. in Downtown Fort Pierce, FL.  The phone number for the Fort Pierce Division of the U.S. Southern District of Florida is (772) 467-2300.